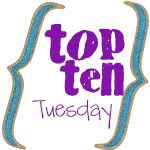 I've been meaning to join the Top Ten Tuesday fun over at
Oh Amanda
's for a while and finally got inspired today! So, here it is. The Top Ten Kid's Books we're reading at the Loving house this month:
1.
Goldilicious
, by Victoria Kann - We're big fans of Pinkalicious so this one was a no-brainer. It's particularly popular with my girls because it's all about an imaginary friend and since we're currently overrun with imaginary friends around here it's one we can all relate to!
2.
The Story About Ping
, by Marjorie Flack & Kurt Wiese - We're doing
Five in a Row
as part of our homeschool curriculum and this was the first book in the volume we started with. The story has a great little moral to it and when coupled with the FIAR curriculum has so much that can be learned from it. We're learning all about China, boats, ducks & more!
3.
How Do Dinosaurs Go to School?
by Jane Yolen & Mark Teague - Have I mentioned my girls love dinosaurs? They also love this series of books! This one is perfect for us since we're learning all about being in a classroom & what it means to behave at school. Plus, it's such a cute rhyming story that it is super fun to read out loud.
4. & 5.
Mr. Brown Can Moo! Can You?
and
Fox in Socks
, by Dr. Seuss - Not that I ever need an excuse to bring out the beloved Dr. Seuss, but we're trying to focus on rhyming books this month as part of our phonics curriculum. And who better to do that with than Dr. Seuss? Not to mention, the girls think it is hilarious to see me all tongue tied reading Fox in Socks!
6.
A Tree for Emmy
, by Mary Ann Rodman - This one is probably one of my top favorite kid's books ever. The illustrations (by Tatjana Mai-Wyss) are beautiful and the story is so charming. Emmy makes for an adorable and spunky main character and one who (like the tree she loves so much) is "stubborn, strong, and a little bit wild." It's a new family favorite!
7.
Class Two at the Zoo
, by Julia Jarman - You might have already noticed, but I'm a sucker for cute rhyming books. This one falls in that category. It's a funny little story about an anaconda on the loose at the zoo and the rhyming makes it one of those books I just love to read. The girls think the story is hilarious and since we're trying to reinforce the concept of rhyming it's a fun one to read this month.
8.
Little Pea
, by Amy Rosenthal - This book is precious! It's all about how poor little pea is forced to finish all of his candy before he can eat the good stuff (like spinach!). It was given to us last year by a good friend but we've recently picked it back up because we've got ourselves a seriously picky eater (Ivy) and we thought this book would be perfect for her. I love the illustrations ( by Jen Corace) and the story just adorable to read.
9.
Skippyjon Jones in the Dog House
, by Judy Schachner - If you haven't read the Skippyjon Jones stories you are missing out! These stories of this little Siamese cat suffering from an identity crisis are among our favorites. Skippyjon Jones thinks he's a Chihuahua and has quite the imagination. It's definitely one of those books I enjoy reading as much as the kids!
10.
The Lion, the Witch, & the Wardrobe
, by C.S. Lewis - You might be thinking it's a little too grown up for a 5 and 3-year-old, but the girls did so well with Despereaux we thought we'd give another big chapter book a try. They've already made it through the 1st book, The Magician's Nephew, last month and are on to The Lion, the Witch & the Wardrobe now. The best part? Their daddy is the one who reads it to them before bed so they get lots of good quality daddy time while hearing a great story!
So that's what we're reading this month. What's on your bookshelf right now?